Sleep Apnea Treatment in North Charleston
Say Goodbye To Your CPAP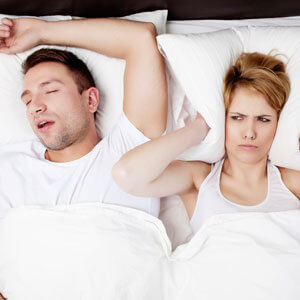 Do you wake up feeling groggy or unrefreshed? Does your partner complain about your thunderous snoring? If you answered yes to both, you likely have sleep apnea. If left untreated, this disorder can progress into serious conditions such as high blood pressure, stroke, heart attack and other devastating issues.
At Palmetto Smiles of Charleston, we offer oral appliance therapy for those who have already been diagnosed with sleep apnea and want to sleep free from their CPAP.
Ready to learn more?
Call (843) 554-3300 now or request your FREE consultation online!
REQUEST AN APPOINTMENT ONLINE »

Get Relief From Sleep Apnea
At Palmetto Smiles of Charleston, we offer the Repire Blue EF+ to help our mild to moderate sleep apnea patients. This thin, durable device is designed with your comfort in mind and allows you to yawn (unlike some older appliances).
At your complimentary, 30-minute consultation Dr. Campbell will examine you and review your OSA diagnosis. If you're a good fit, you can use your medical insurance, and we will take care of pre-approving you.
Book your FREE consultation today!
Call (843) 554-3300 or request an appointment online
We'd Love to Hear from You!
Call Us! (843) 554-3300

REQUEST AN APPOINTMENT
Please note that submitting a preferred day and time does not guarantee an appointment. You must be contacted by our office to receive an appointment confirmation. Se habla español!
CONTACT
Palmetto Smiles of Charleston
3188 W Montague Ave
North Charleston, SC 29418
T: (843) 554-3300

Office Hours