Meet Julian Campbell, DMD
I Learned to Value My Oral Health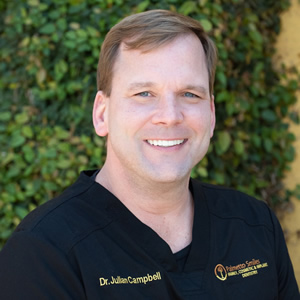 I had a lot of dental work as a kid! A bike accident caused me to need three front teeth replaced. I had three root canals, some crowns done and spent a lot of time in the dental chair from having too much candy and too little healthy dental habits! Going through seeing so many dentists made me realize what was lacking in the dental field: customer service.
Too many dentists lose focus on providing a great service to their patients. I wanted to change that.
Dr. Julian Campbell
Combining Customer Service and Medicine
Dr. Campbell spent 10 years waiting tables and bartending while putting himself through undergraduate school at the College of Charleston. After graduating with honors, he considered his options in the service field. "The best field that combines science and business is dentistry. It's a profession that allows you to take great care of people."
Palmetto Smiles of Charleston prides itself on using the best materials and techniques for our patients' dental care.
Dr. Campbell emphasizes a patient-centered, personal approach to his treatment by treating the patients as individuals and taking the time to get to know them. He knows that a successful dentist must understand the patients needs and goals in order to achieve results that everyone will be happy about. Dr. Campbell and his staff look forward to seeing each and every patient walk out with a smile on their face.
EXPLORE OUR SERVICES »


Continuing to Learn
After going through so much dental care, Dr. Campbell wanted to help people who felt fear or anxiety about going to the dentist. He took the dental school test, applied and was accepted within three weeks. Dr. Campbell attended the Medical University of South Carolina for his dental education. He regularly continues his education in conservative, holistic dentistry courses such as Invisalign® by attending seminars and taking courses.
Dr. Campbell is a member of many dental organizations:
The Academy of General Dentistry
The Academy of Osseointegration
The American Academy of Cosmetic Dentistry
The American Academy of Dental Sleep Medicine
The American Academy of Implant Dentistry
The American Dental Association
The American Equilibration Society
The International Association of Oral Medicine and Toxicology
The South Carolina Dental Association

Enjoying Life in Charleston
Dr. Campbell made the move to Charleston after living in Lexington, NC. He got a job at the Piggly Wiggly where he met his wife, Amy. Dr. Campbell loves living by the beach and enjoying all our beautiful area has to offer.
Most of his time outside the office is spent with his young children, Madilynn and Will. They often take the time to enjoy our local parks. Dr. Campbell also likes to golf, read and travel when he has time.
Palmetto Smiles of Charleston supports local baseball teams and donates to the Whole Kids Foundation to improve the quality of food in local schools and educate kids about gardening.

Schedule Your New Patient Exam Today
We're ready to put you at ease and give you the most comfortable dental care available. Contact us today to book your new patient exam.

Palmetto Smiles of Charleston | (843) 554-3300