Sleep Apnea Treatment
Say Goodbye To Your CPAP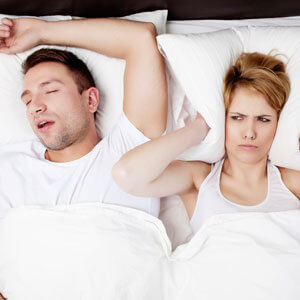 Do you wake up feeling groggy or unrefreshed? Does your partner complain about your thunderous snoring? If you answered yes to both, you likely have sleep apnea. If left untreated, this disorder can progress into serious conditions such as high blood pressure, stroke, heart attack and other devastating issues. CPAP machines are commonly used to treat sleep apnea, but they're bulky, uncomfortable and hard to keep clean.
At Palmetto Smiles of Charleston, we offer oral appliance therapy for those who already have been diagnosed with obstructive sleep apnea (OSA) but hate to their CPAP machine. We can assist those with mild to moderate cases, and understand that for those with severe OSA, they will have to continue to use their CPAP machine.
The Respire Blue EF+ Sleep Device
The oral appliance that we use to help our mild to moderate OSA patients is the Repire Blue EF+. This sleep device, made by Whole You™, features an innovative, patented design and is made of alloy, making it significantly thinner on the inside yet incredibly durable. The device allows you to keep your mouth slightly open and jaw forward. You will be able to yawn with it, unlike some older appliances that had a hook in the front. Designed for comfort, the Respire Blue EF+ comes with a one-year manufacturer warranty.
What to Expect
At your complimentary consultation, we can determine if you're an ideal candidate for an oral appliance. The consultation will take about 30 minutes. Dr. Campbell will examine you and review your OSA diagnosis.
If you wish to have us to go ahead and take a digital scan for your custom-made appliance, then your appointment time will take about an hour. One of the benefits of the scan is that no gooey impressions are needed. We will perform a scan in your best forward jaw position. Then, we will send the scan as a file to the lab. The turnaround time is quick as the appliance will be ready in about two weeks. At a second appointment you will be given your appliance and the initial fit will be checked. Follow-up appointments will be scheduled as necessary.
FAQ
I definitely snore and feel groggy in the morning. Do I need to be diagnosed before I schedule a free consultation?
Yes; you must be diagnosed with mild to moderate OSA by a sleep disorder physician or center before we will see you.
Does insurance cover oral appliances?
Yes; you can use your medical insurance, and we will take care of pre-approving you. Typically, you will have limited out-of-pocket expenses.
Do I need to adjust the appliance at home?
No; we will custom adjust the appliance, so it's locked into a position that prevents snoring and allows you to have a restful night's sleep. All you need to do is wear it while sleeping.

Schedule Your Free Consultation Today
If you are tired of fighting with your CPAP machine & mask and are wondering about comfortable alternatives, contact us today to book a free consultation!

Sleep Apnoea Treatment in Charleston, North Charleston SC | (843) 554-3300