Invisalign® Invisible Braces
Beautiful, Straighter Smiles

Did you know that your dentist's experience with Invisalign® affects the results you'll get? Dr. Campbell is a preferred provider for Invisalign® and will help you achieve the great results you're looking for.
Special Offer – No Obligation Consultation!
Our dentist is ready to evaluate you free of charge. This Invisalign® workup will include taking scans and pictures of your teeth. For the comfort of our patients, we recently added an Itero intraoral scanner to our practice-which means no more 'goopy' mouth impressions. With the new scanner, we're able to create a perfect model of your teeth to show you how beautiful your smile will look when treatment is completed. Best of all, this is absolutely free during your consultation! Contact us today!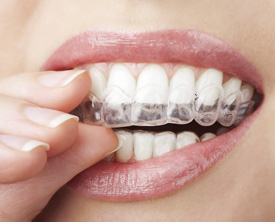 We see three types of cases for Invisalign®, all of which include FREE teeth whitening:
Express Case: Ten weeks, five aligners, with a small fraction of the usual fee.
Five-month Case: Ten aligners used for a total of five months, involving about half of the usual fee.
One-year Case: Most cases are finished in one year. Our prices are kept competitive to give everyone an opportunity to afford a straight, beautiful smile.
Who It Works for
Invisalign® only works if you have all your permanent teeth and is recommended for those age 12 and older. If you have severe crowding, we may need to first fix your bite in order to straighten your teeth. Invisalign® is a great option for mild crowding or if you've had braces before but need to straighten out your teeth again. The current alignment of your teeth will determine the length of time you'll need to use Invisalign®.
We Keep Your Aligners on File
Every patient's aligners are kept at our office. If you ever get off track wearing your retainer or are busy at work and forget to wear the aligners, your teeth may shift. Since we keep your aligners, we can start Invisalign® for you again at any time.

Insurance covers Invisalign® just like your plan would cover traditional orthodontics but should you need financing, we offer Lending Point specifically for Invisalign patients.

Schedule Your Free Consultation Today
Straighten your teeth quickly and easily. Contact Palmetto Smiles of Charleston today to find out more!

Adult Invisalign Braces Charleston, North Charleston SC | Palmetto Smiles of Charleston